Whether you want to cut your own Christmas Tree,
Pick a live Christmas Tree
And have it cut for you,
Or buy a freshly pre-cut Christmas Tree…
Fallowfield Tree Farm is your best – closest to Ottawa…
Right place for Christmas Trees…
Young or old, planning a visit to Fallowfield Tree Farm to find your perfect Christmas tree will be a memorable experience to make your Christmas season even brighter. Located on the south-west edge of Ottawa, near Stittsville, our 100 acre farm could just as easily be in the far north of Scandinavia.
Our Christmas tree experience is enough to create a tingle
Of festive excitement in even the most cynical, old Scrooge…
The full Fallowfield Tree Farm experience can involve a FREE hayrides into our forest, choosing your special Christmas tree from the thousands on the farm. Varieties include Fraser, Balsam, Blue Spruce and Jack Pine for the living room, and larger pines for your front yard or gardens.
Read an article about Fallowfield Tree Farm
Increasingly popular with local customers and those from across the Atlantic, we also feature a selection of trees native to Europe.
To add to the festive feel, we serve FREE
hot chocolate with marshmallows, bonfires,complimentary tree shaking and baling (to remove the snow and make it easier to get home). Scouts sell hot dogs during the three weekends before Christmas with the proceeds going to their various fund-raising activities.
And we've been told Santa's been seen frequently on the Farm during December, so be sure to watch for him on weekends.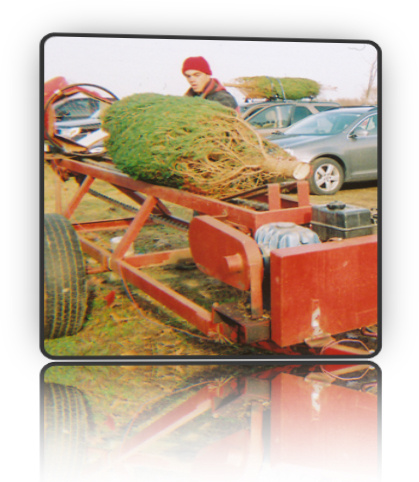 Bring your family, book a group – come on out and join us for a great family day outdoors…
During the short Christmas season, things can change quickly. Because of weather conditions, some activities may need to be changed, rescheduled or only rarely, postponed. We always have lots of 'pick-your-own' Christmas trees and pre-cut Christmas trees available, but since we never know what this year's demand will be, it's remotely possible (the chances are small) we could run low of certain sizes and types of trees.
We'd never want to disappoint you or your family, sooo, we strongly suggest you give us a call before you drive out to the Farm… just to be sure about our hours for that day, our supply of trees, and which of our attractions & activities will be available.
Call TODAY for details - 613.720.3451
Open for Christmas trees the last week of November…
Through December 24
Open seven days a week – 9 am 'til 9 pm
See our interactive map on the Contact Us / Map page
From Highway 416 – take the Fallowfield Road exit, go about 8 kilometers west,
just past Eagleson Road – watch for our road signs
From Stittsville – turn east on Fallowfield Road, go 1 kilometer – watch for our road signs