Looking for something different t

o do with your family & friends…
Neighbors, or with the folks you work with?
Fallowfield Tree Farm Inc is more than just a farm with trees…
Consider a hay ride in one of our sturdy wagons…

O

r maybe a sleigh ride in the snowy season?
Just imagine!
An authentic, horse-drawn sleigh ride or hay wagon ride with loved ones, family, friends, associates, work mates, or?
Maybe even your special loved one (or a couple of couples) for a romantic sleigh ride
after dark?
The smells of leather and straw; the sounds of horses hoofs crunching or the sleigh runners squeaking on the snow (only in the wintertime, or course), and that special someone sitting close to you… what could possibly be more romantic than that?
---
What our clients are saying about sleigh rides at Fallowfield Tree Farm Inc…
"Last year we organized a sleigh ride and potluck dinner at Fallowfield Tree Farm Inc and it was such a success, we decided to do it again this year.
We had 30 people on the sleigh rides last night, and once again, we all had a wonderful time. Thank you so much.
Please tell Kennie the slides were a huge hit with the kids. They didn't want to come in for dinner or leave at the end of the night.
We hope to see you again next year!"
Jennifer G.
Ottawa
---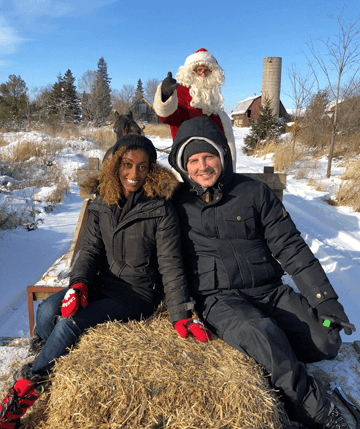 The farm is chock full of winding trails and interesting countryside to capture your attention and imagination… so there will never be a dull moment during your ride.
With our all-season service, Fallowfield Tree Farm Inc you can choose either a sleigh ride or hay ride (depending on the time of year and weather).
Our premium programs include a horse-drawn sleigh ride or hay wagon ride (minimum of four (4) riders – be sure to ask us for details and date availability)
And if you're budget conscious, consider our tractor-drawn sleigh ride or hay wagon ride option.
Afterwards, you and yours can enjoy roasting marshmallows and warming up with hot chocolate around the bonfire. You can even take advantage of our rustic & reasonable party/event hall for your own, private, after-ride party or celebration.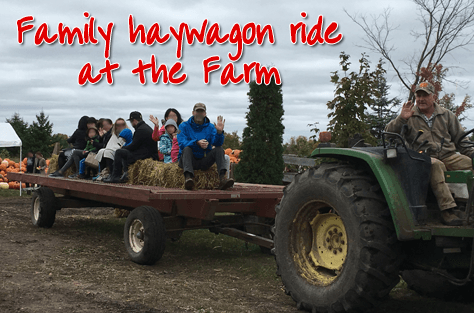 For the kids (or the kid in you)…
On the weekends – or by appointment – we can provide pony rides, farm animals for petting, tunnel slides (when there's enough snow on the ground), and a special bouncy castle nestled in the loft of the barn.
A great time for all is here for the taking… at Fallowfield Tree Farm Inc!
Call us TODAY for details – 613.720.3451
Or Email us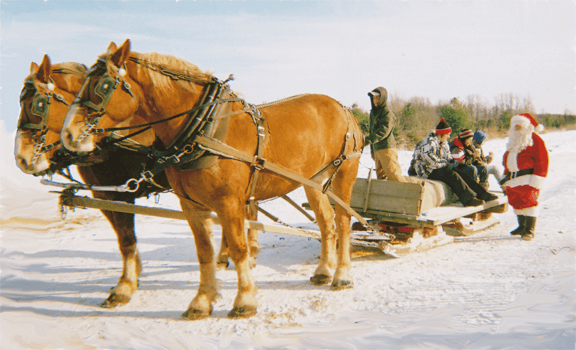 ---
What our customers are saying about Fallowfield Tree Farm Inc…
"Hi Karen & Kenny,
Thanks to you all for making today so much fun for the kids! They had an amazing time!
I know it was incredibly short notice, and at one of the busiest times of the year, too… so I can't say thank you enough for helping me save our party!!!
Thank you again for everything.
Merry Christmas and all the best for 2017."
Melanie A.
"PS. I think you'll have quite a few new customers. Some of our families picked a tree today. And if not this year, others were excited to know Fallowfield Tree Farm Inc is so close to home for next year :)"

---
You can bring your own snacks.
If you're planning your event for October – you might consider including pick-your-own pumpkins as an activity. Kids love it!
Planning it for December? You might consider including a choose-your-own Christmas trees activity. Everyone will love it.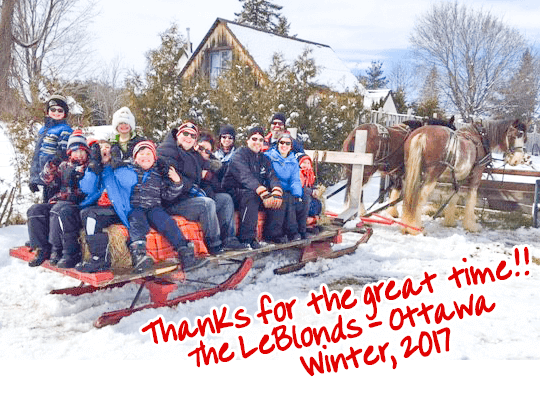 Give us a call TODAY! – 613.720.3451
Or e-mail us for details.
For your convenience,
we accept the following methods of payment…