Not all Ottawa-area tree farms are the same…
Our Christmas Tree farm will be open from November 23 thru' December 24, 2019,
9-to-9, 7 days a week!
For over 20 years, we've had a simple mission at Fallowfield Tree Farm Inc…
"To make Ottawa a more beautiful place to live…"
Ottawa's Fallowfield Tree Farm Inc
Offers you the best selection and variety of all kinds of trees…
And a wonderful family outdoor experience, too!
Trees are the 'frame' through which you and others see your property

And having the wrong trees, the wrong sized trees, not enough of the right trees, or even no trees at all,
can have a significant impact on the relative curb appeal of your property.
And that's where a tree farm with lots of selection (like Fallowfield Tree Farm Inc) comes in…
Why wait 10, 15, or even 20 years for a stripling to grow into your landscape…
When you can have a perfect, more mature tree… right now?
And finding just the right tree – the right kind, the right size, and the right shape – can be tough.
Sure, you can buy a skinny stripling at the big box store – hoping against hope it'll survive, much less grow into the stately tree you're hoping for.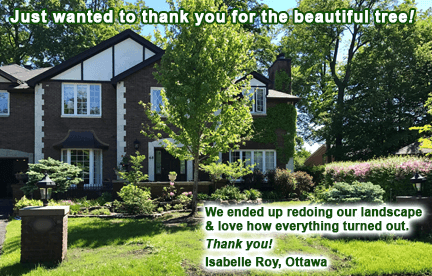 But would you really want to take chances
On something as important as THE TREE…
One of the primary focal points of your landscape?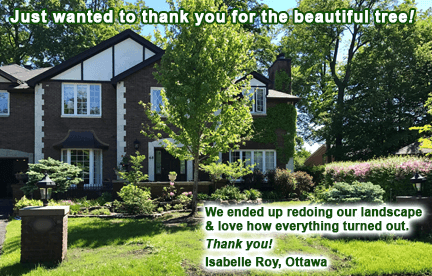 Just 15-20 minutes west of downtown Ottawa on Fallowfield Road in Stittsville, Fallowfield Tree Farm Inc offers you a great selection of regular & large caliper-sized deciduous (leafy) & coniferous (pine, balsam, etc.) trees.
Our tree farm is fully insured for your peace-of-mind, too!
You'll find trees of all kinds at Fallowfield Tree Farm Inc, as well as hedge cedars, quality tree removal, tree relocation, tree planting, and stump grinding and removal services.
Mature trees from our extensive tree farm… and much, more…
I
n addition to our extensive tree farm, we also offer an equally extensive selection of Christmas trees
at our 'cut-your-own' Christmas tree farm, as well as fresh seasonal 'fresh-from-the-farm' produce,
pumpkins in the Fall, year-round hay wagon rides, winter sleigh rides, and a rustic, intimate

party/events room.
We even offer a grass sodding and grass seeding service (get details here), as well as our mini-excavator rental service
All of which means, a visit to Fallowfield Tree Farm Inc can be more than just Greater Ottawa's 'place for trees' for you, your family, group, or organization – it can be the ultimate family outing, a memorable event – even a celebration, and much, much more!

Give us a call TODAY – 613.720.3451
Or e-mail us for details…