If you're looking for answers to questions on transplanting trees,
Removing trees or stumps, pick-and-cut-your-own Christmas trees,
Hayrides and sleigh rides, parties or events, renting our mini-excavator,
Or our roadside fresh, local produce store…
And can't find answers on our web site…
You can e-mail us…
But, before you do, we want you to know – Fallowfield Tree Farm Inc is a real, working farm & tree farm.
Owner, Kenny Stuyt, and just a couple of trusted 'others' deal with all of your tree-related inquiries, in addition to digging up your chosen tree(s) (delivering & installing them, too!), removing stumps, operating the mini-excavator, working the fields during pumpkin season, as well as for Summer produce.
That said, sometimes we may not get back to the office until late into the evening… and, while we really want to be your chosen tree source, we may not be able to get back to you as quickly as this electronic age has conditioned you to expect – but rest assured – we will get back to you… promise!
---
From time-to-time, folks have asked to send us pictures or drawings of their projects, and we'd really like to have a look at yours.
We hope you'll understand – but for web security purposes, we don't include our actual email addresses on our website.
So if you need to send us photos or drawings, you can click on this link to email us using our email form, or you can give Kenny a call at 613.720.3451, or Karen at 613.720.0359 and we'll be glad to give you an email address to use.
kkYou'll find us at (see map below)
6100 Fallowfield Road
Stittsville, ON K2S 1B8
---


Huge tree farm within 20-25 minutes of downtown Ottawa
6100 Fallowfield Road
Otwa, ON
Canada
K2S 1B8

Fallowfield Tree Farm Inc is a great place to choose that great, large to very large tree from literally acres of options. You choose the ones you want, prep and deliver 'em to your property - and plant 'em where you want.

Each winter season we have a wonderful selection of choose-and-cut-your-own and ultra-fresh, pre-cut Christmas trees. Make it an afternoon adventure with your family... or even better, plan a hayride or sleigh ride and make it a day no one will forget. Fallowfield Tree Farm Inc - 613.720.3451.

We have an event facility for your get-togethers, so you can plan a hot cider social after your hayride, a corn roast in the late summer, or just about any other kind of event.

Finally, Fallowfield Tree Farm also has a large working farm, so we maintain a roadside produce stand, selling seasonal fresh-picked local produce.

Come on by for a look, or give us a call at 613.720.3451. Everyone's sure to have a great time.
******************************************
Our Christmas Hours for 2022
We're open 9 am to 6 pm, Monday through Saturday, and closed Sundays...
Hope to see you at the Farm.


---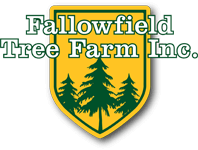 6100 Fallowfield Road
Stittsville, ON, K2S 1B8

— UPDATED - Fall Hours —
We're open from 9 am to 6 pm Monday through Sunday.

613.720.3451

Dogs on leashes are welcome!
Home I About Us I Christmas Trees I Sod-Seeding I Services I Pumpkins-Fall Decor
Hayrides & Sleigh Rides I Mini Excavator I Contact Us & Map I Privacy Policy