About Fallowfield Tree Farm Inc…
A family-friendly farming tradition – with Dutch roots…
Results in a one-of-a-kind Ottawa Tree Farm…
Fallowfield Tree Farm is part of a family farming business that's been serving the Greater-Ottawa area for over 55 years. The Stuyt family left Holland for Canada in the early 1950's, starting a dairy and cash crop farming operation which has continued to proudly grow and contribute to the community… to this day.
And now, in addition to the typical tree farm offerings, second generation owner – Kenny Stuyt – also offers a wide variety of family-oriented, outdoor 'experiences.'
So, whether you want to…

• Bring your family along to choose that important, stately large tree to complete your landscape and make a statement…
at competitive prices, too
• Get some fresh, sweet corn in the late summer at our fresh produce stand in Kanata
• Find that special Halloween pumpkin (or three) from our pumpkin patch
• Choose the perfect Christmas tree from the large selection on our Christmas tree farm area
• Enjoy a hay wagon ride with family, friends, or associates, or, in season, book a sleigh ride and enjoy a complimentary
cup of hot chocolate with marshmallows beside the bonfire after you've chosen your perfect Christmas tree…
The list goes on and on here at the Fallowfield Tree Farm…
So give us a call TODAY – 613.720.3451
Or e-mail us to explore (no obligation) how we can be of service…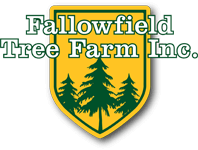 6100 Fallowfield Road
Stittsville, ON, K2S 1B8

— UPDATED - Winter Hours —
We're open from 9 am to 8 pm every day.
613.720.3451

Dogs on leashes are welcome!
Home I About Us I Christmas Trees I Hayrides & Sleigh Rides I Sod-Seeding I Services
Pumpkins-Fall Decor I Mini Excavator I Contact Us & Map I Privacy Policy