---
I wanted to write and thank Kenny and everyone who helped in the great service in delivering cedars and fire wood we purchased. Also providing tree stump removal service – what a great job!
The professionalism and timeliness of your delivery was so appreciated as we had help lined up.
A big thumbs up to you guys!
Laurie Quenneville, Dunrobin
K9Kanteen.com / MooseLakeLabs.com
Laurie Quenneville
---
"We would like to commend you and your Fallowfield Tree Farm Inc staff for (the) informative and courteous service you provide.
A few years ago you planted a Cedar hedge and a Maple tree for us (we picked out the Maple tree ourselves). Our neighbour commented that my partner (over 80 at the time) likely wouldn't be around to benefit from any shade the maple would provide.
Well, he's coming up on 88, and not only has the Maple tree flourished… it's healthy beyond belief. The Cedar hedge likewise is flourishing and has provided us with the privacy we'd hoped. We're completely satisfied with both of them, and we're well-pleased with the exceptional, congenial and helpful approach (we received) from all of you at Fallowfield Tree Farm Inc.
Thanks,"
Mr. & Mrs. Rowan, Ottawa
Mr. & Mrs. Rowan - Ottawa
---
" My family visited the farm today and had a wonderful time.
Thank you for putting so much effort into creating a joyful experience.
Our Christmas tree is home, set-up, and it's beautiful.
The kids are having a great nap thanks to all of the running, jumping, and sliding.
We really appreciate that all the activities were free – the kids talked about it all the way home.
Thank you!"
Kristopher, Ottawa
Kristopher
---
"Hi Karen & Kenny,
Thanks to you all for making today so much fun for the kids! They had an amazing time!
I know it was incredibly short notice, and at one of the busiest times of the year, too… so I can't say thank you enough for helping me save our party!
Thank you again for everything.
Merry Christmas and all the best for 2017,
Melanie A., Ottawa
PS. I think you'll have quite a few new customers. Some of our families picked a tree today. And if not this year, others were excited to know Fallowfield Tree Farm Inc is so close to home for next year :)"
Melanie A.
---
"Fallowfield Tree Farm Inc, just outside Stittsville, is the BEST place to cut your own Christmas tree.
They have hay wagon and sleigh rides, free hot chocolate, and we even saw Santa there on the weekend.
We bought hot dogs (proceeds went to a charity) and warmed up in the barn.
The kids just loved it.
We've been going to Fallowfield Tree Farm Inc for years!"
Sherri, Ottawa
Sherri
---
"Just wanted to thank you for the beautiful tree!
We ended up redoing our landscape and really love how everything turned out.
Thank you!"
Isabelle Roy, Ottawa
Isabelle Roy
---
"Thanks for the great time on our sleigh ride!!"
The LeBlonds, Ottawa
Winter, 2017
The LeBlonds
---
"Last year I organized a sleigh ride and potluck dinner at Fallowfield Tree Farm Inc. It was such a success, we decided to do it again this year.
We had 30 people on the sleigh rides, and we had a wonderful time once again.
Thank you so much.
Please tell Kenny the slides were a huge hit. The kids didn't want to come in for dinner or leave at the end of the night.
We hope to see you again next year!"
Jennifer G., Ottawa
Jennifer G.
---
"Just wanted to thank you and let you know our family had a great time picking out our Christmas tree this afternoon.
The kids loved the hot chocolate and wagon ride, and our dog is tired out from running in the fields.
Santa even paid a visit this year!
This is the 3rd season we've cut our tree at your farm and we hope to see you again next year."
The Benson Family, Stittsville
The Bensons
---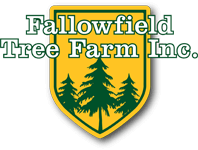 6100 Fallowfield Road
Stittsville, ON, K2S 1B8
Directions
Hours – Monday through Saturday 9 am – 5 pm
Closed Sunday (except by appointment only)
613.720.3451
Home I About Us I Christmas Trees I Sod-Seeding I Services I Pumpkins-Fall Decor
Hayrides & Sleigh Rides I Mini Excavator I Contact Us & Map I Privacy Policy